Our easy time and resource scheduling software for SMB manufacturers recently got recognized with two renowned German awards. just plan it, the leading job shop scheduling software, was ranked as one of the best vertical solutions within the "Innovationspreis IT for SMBs" (innovation award IT for SMBs). Second, the software is also rated as "Best of Industrie", which marks it as a leading solution for manufacturing industries.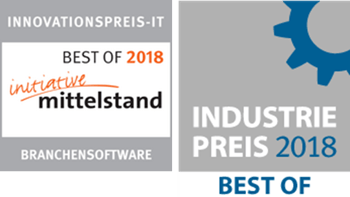 The INNOVATIONSPREIS-IT is one of the most important recognitions for IT products and solutions in Germany that are made for SMB customers. The applications for the INNOVATIONSPREIS-IT are reviewed by an independent panel of experts consisting of scientists, IT industry experts and journalists. The award is given for the most compelling innovations within various categories and our job shop scheduling software had been recognized as a leading vertical solution.
The INDUSTRIEPREIS is awarded to companies with various backgrounds providing solutions to be used in manufacturung environments. The applications are judged by an independent panel of professors, scientists, industry experts and journalists. As such, the INDUSTRIEPRICE recognizes just plan it as one of the best products within the category IT & software solutions.
We as NETRONIC Software (the company that builds just plan it) are honored and proud that we again are seen as one of the best German software products for the SMB/manufacturing segment. This is exactly what we have been making our visual job shop scheduling software for: to enable SMB (make-to-order) manufacturers gain operational agility with visual scheduling. With just plan it, we enable an easy time and resource scheduling with which we empower our clients to improve their delivery commitments and move way from a manual and Excel-based scheduling.
By the way: how do you schedule your job shop? Why not starting with an award-winning software? It is free for 30 days. Start now!