Step 3 - Update - Understand - Schedule - Report - Execute
Done with getting the minimum required information into our Excel production scheduling template? Great. Now it is upon time for making a brave step and for entering a new world. Log into your just plan it portal, and have a look at the buttons in the upper menu pane. Wait a minute! You do not yet have a just plan it account? Let's get this changed and request a trial account. It is free, valid for 30 days and you have no obligation at all once it expires.
Now that you have this, please log in, press the "upload" button, select the scheduling spreadsheet that you built from our template and upload to just plan it.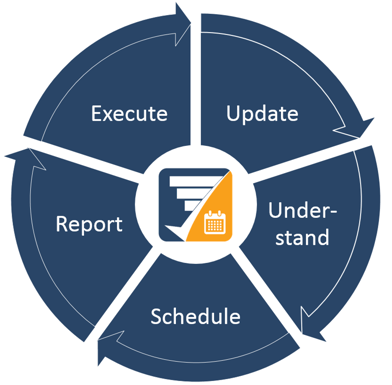 With uploading your sheet to just plan it, some magic things happen on the fly. In essence, a scheduling engine designed for the needs of SMB manufacturers calculates an efficient plan with a dedicated time and resource focus from your data. By default, it applies an as soon as possible scheduling strategy, and makes sure that your resources get utilized in an appropriate manner.
The result of this immediate scheduling process is presented to you in a graphical way: you see your production schedule both from a jobs and a resource view, and of course you can easily change jobs and tasks. This enables you to better understand the schedule, and all explicit and implicit dependencies. We also provide you with visual alerts in case there are conflicts you should take care of such as potentially missed delivery dates.
Based on all this information, you can take immediate corrective scheduling actions if needed. Here you can either go for automatic scheduling and benefit from the support of our scheduling engine. You also can face your need to action by manual scheduling and solve conflicts by drag and drop. Alternatively take the best of both with hybrid scheduling.
So far, so good. Now you have a time and resource centric production schedule on which you can act intuitively. Easily export this to xls and provide Job and Task reports to your production operators or the management board. This is the best and most reliable way to care for an efficient execution.
But we all know that a schedule never is static, and that you hopefully will win new jobs that you need to add to the schedule. We do not want to send you back to Excel. Excel was good to get your new scheduling experience going. just plan it comes with complete functionality to add jobs from within the application. The modification dialogue (accessible through the button menu pane, see also on our video page) mirrors the minimum information needed from the initial Excel spreadsheet. Just add orders as your business propels, and continue the circle of visual scheduling: Update - Understand - Schedule - Report - Execute