---
Basic function 3:
integrated feedback mechanism from the shopfloor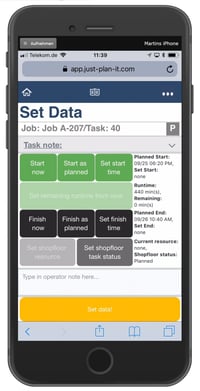 Does it make sense to draw up a plan without knowing how the plan is executed? Of course not. Therefore, just plan it not only creates work plans for the employees, which are displayed on tablets or mobiles, but at the same time, they also receive a simple menu with which they can give feedback to the system, such as work order started, interrupted, completed. The data can be fed back in terms of time or quantity.
This way, real data is fed back into the system, providing the planner with an up-to-date report on the schedule, alerting him in case of unplanned delays, and enabling him to take corrective action in good time.
"The most important features for me were the ability for engineers to log on and off tasks and update the schedule in real-time." Richard Loynds, Managing Director at Loynds International Ltd
In addition, this data can later be used for a target/actual comparison to find errors in the template data. The planning is successively made more precise.
"Thanks to just plan it, we are also able to measure the productivity of each area and draw conclusions from the data it gives us. From there we have been able to reassign certain people to other areas and we have discovered bottlenecks that we didn't know were so important." Jerónimo Álvarez, Senior Director Manufacturing at Cortinas México
---