In these challenging times, we are lucky. We at NETRONIC Software GmbH, the company behind just plan it, are able to continue to work and provide you with all we have to offer (read more at the NETRONIC Blog).
As such we continue to think and work on just plan it to further enhance your scheduling capabilities. So for this release we focused on you being able to better keep the focus in a complex schedule: Filtering out what you don't need to see and highlighting what's left.
Making shopfloor feedback easier: Job filter in the Operator Client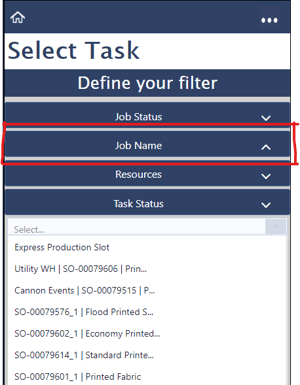 In a perfect world, everything runs according to plan. Your planner schedules tasks, those tasks are processed by your operators in the scheduled order and shopfloor feedback signals back to your planner if and when a task is done.
But sometimes an operator has to work multiple machines, or something spontaneously needs to change without being put into the just plan it software because of critical timing. This results in the Operator Client being cumbersome to use, because you have to scroll up and down the list until you find the task you're looking for. We heard this from various users following with the request to change this. So here´s the proof that we listen to our customers:
As you can see we added the option to filter the task list by the job name. This filter works just as it does in the main views:
You can either enter any text you would like, or select one of your jobs to be used as the filter condition. Quick reminder: You will get all jobs containing the filter condition in its name in your view (e.g. Filtering for "Job 1" would result in you finding "Job 1" but also "Job 10").
This, of course, can be combined with all other filters.
Seeing what has been reported for approval
We also added a new filter for planners in the Execute Mode: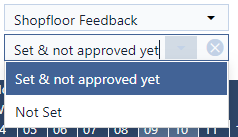 When choosing "set & not approved yet", this filter allows you to only see those jobs that contain unapproved feedback, allowing you to look into the feedback before approval much quicker.
Choosing "Not set" does the opposite, as you might have expected. This allows you to more quickly see tasks for which you would have expected feedback but have none.
Enhanced highlighting: More color scheme options
To easily highlight certain data of your schedule, you are capable of creating your own color schemes. But until now you were capped at 10 highlighting criteria options per scheme. We now increased this cap to 25, enabling you to build even more powerful color schemes keeping you up to date on the tasks with information you want.
There were also a lot of back-end investments that increase the stability of just plan it as well as the capability to easily and quickly maintain the software. We keep on working making just plan it better in terms of functionality and performance.
Happy scheduling!
And ... by the way ...
You aren't a just plan it user so far? Why spending more time on maintaining an inappropriate self-made stopgap solution? Why waste more money due to a lack of shopfloor transparency?
Book your meeting with a scheduling specialist now and see how easy you can improve your scheduling with just plan it: