Testing a new software can be a very lavish procedure. It normally comes along with extensive efforts to get familiar with features and functionality to say nothing of getting a full picture if the own requests are met or not. To counteract against this and to ensure that anyone's trial of just plan it will be an enduring succes we designed a special ebook to help you making your first steps with our visual scheduling software.
This ebook provides the knowledge for getting started. It gives a vivid description of the steps needed to be taken to make your just plan it trial a success. The ebook is virtually meant to take your hand and to guide you through the steps of testing the visual scheduling software. Once you are done with this guide, you should be really able to make a well-grounded evaluation what additional benefits just plan it brings and how the software meets your demands.
With just plan it we aim at enabling SMB manufacturers to achieve easy time and resource scheduling. The Gantt chart based visual scheduling software empowers the planner to easily manage operational production planning. We effectively recommend to imbed the usage of just plan it into the five phases of visual scheduling.
Update
Understand
Schedule
Report
Execute
Consequently and over and above the ebook also is structured following the visual scheduling circle: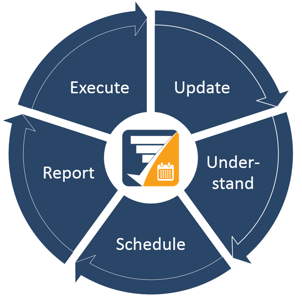 So, easily learn and understand during your trial how to
Upload your starting data and effectively update existing jobs
Understand your current planning situation and derive your need for action
Purposively Schedule based on your need for action
Retrieve Reports of your new schedule
Execute your plan in real life