As of today we have rolled out a new version of our job shop scheduling software to all active accounts. This means to all customers and trial users. Of course, the highlight is the new Execute Mode, which I covered in an extra blog post. With today's shipment, we decided to add some further extras (besides the usual bug fixing) on top of the Execute Mode. The extras are the integration of a support chat box into the application, enhancements of the job and task report, and more Excel upload power.
Support chat box integrated into application

You know it from our homepage. We have this little icon in the lower right-hand corner with which you can start a chat with us. The same kind of functionality is now available from within the application as well. Just click this icon, which we placed in all the menu tabs, and a chart window opens. Please note: we are truly happy to help and engage. But from time to time we also need some sleep and hence we might not be available around the clock. In that case, the chat box asks for your email. Please leave it there and we'll get back to you asap. Promised.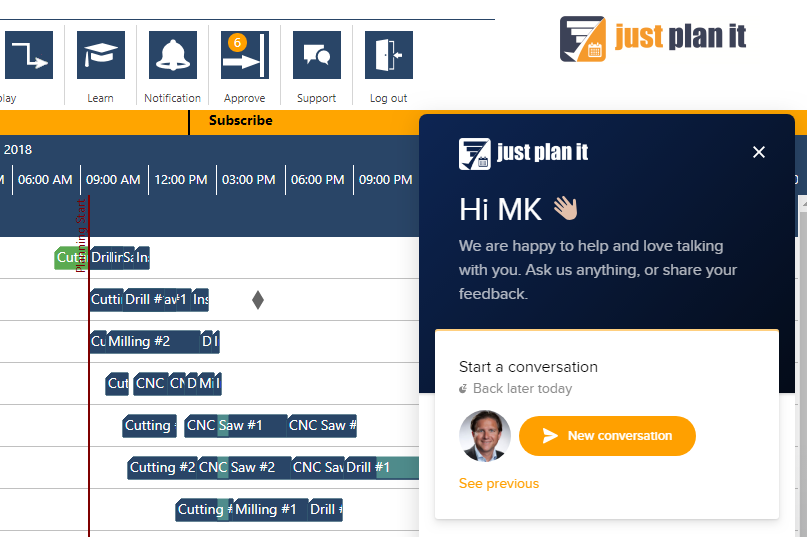 Enhancement of job and task report
We enhanced the job and task report and simply made available all fields and information that we have. This gives you some extra reporting horse power.
And of course, the task report now includes all new fields that come from the Execute Mode such as shopfloor start time, shopfloor finish time, task status, etc.
Upload times via Excel, not just dates
So far, you could only specify dates when uploading data via Excel. For example, for a due date you could tell the software the day, but not a particular time. This has been changed and as of now, you can tell us the date and time for the due date and the release date.
This is what we see as small, but meaningful, extras to the Execute Mode. Stay tuned for more to come.